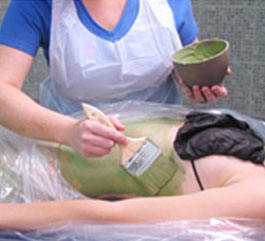 Body wraps are a wonderful precursor to a massage to relax the muscles and release toxins.
Rehydrating Body Butter Wrap
Indulge yourself as your therapist dry brushes your body to exfoliate dead skin and stimulate circulation, followed by an application of Shea body butter. Next, your therapist cocoons you in a comforting wrap and lets you rest undisturbed. Truly relaxing.
50 minutes ~ $105
CBD Body Butter Wrap
Soothe and warm your muscles, release tension, rejuvenate and calm inflammation and nourish dry skin with CBD infused body butter. One of the most luxurious topicals for the skin with the health benefits of CBD.
50 minutes ~ $125
CBD Citrus Body Polish Wrap
Exfoliate, moisturize and reduce inflammation in one simple step. Our CBD Citrus Body Polish contains rich shea/coconut butter to hydrate and moisturize, just the right amount of sugar to gently exfoliate and CBD to reduce inflammation, leaving your skin soft and supple and your muscles relaxed. Exhilarating!
50 minutes ~ $145
Detoxifying Seaweed Body Wrap
Refresh and detox body and soul with this amazing wrap containing Sea Kelp for metabolic stimulation and nutrient rich Klamath Blue-Green Algae to hydrate and detoxify.

Contains seaweed; not advised for clients allergic to iodine or seafood.
50 minutes ~ $125
Loyal Guest Pamper Plan Perks
BOGO-buy one, get one of any $10 add-on!
OR 10% Off Add-Ons Listed Below: