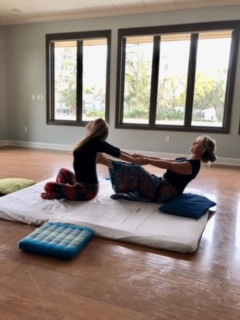 All our massage therapists at Fountain Spa are qualified to serve you with the very best therapeutic massages on Hilton Head Island, South Carolina. We offer a wide range of massages and will match you with the best therapist for your specific needs.
Cupping Therapy
Reduce chronic pain, inflammation and muscles restrictions, while a knowledgeable therapist slides cups over an oiled body, creating suction to pull out toxins, eliminate obstructions and relax the muscles.
25 minutes ~ $65 50 minutes ~ $130 added to a 50 or 80 minute massage ~ $50
All Thai-Ed Up (Thai Yoga Massage)
Relinquish control as your therapist uses his hands, knees, legs, and feet to move you into a series of yoga-like stretches, while you lie on a padded mat on the floor. Since you remain fully dressed, it is best to wear loose, comfortable clothing. Leave feeling energized and relaxed simultaneously.
60 minutes ~ $105 90 minutes ~ $145
Scar Therapy
Scar Therapy helps the body heal from surgical procedures such as knee/hip replacement, caesarean delivery, tummy tucks and injuries by reducing swelling, tightness, and numbing therefore, increasing mobility. Scar Therapy is fast, painless and most importantly, permanent. Whether a scar is 4 weeks or 40 years old, resolutions will be achieved!
75 minutes ~ $150
Craniosacral Therapy (CST)
CST is a gentle, hands-on approach that releases tensions deep in the body to relieve pain and dysfunction and improve whole-body health and performance.
60 minutes ~ $95
Ear Coning
An herbal, hollow, cone candle removes impurities, like wax from the ear. Wonderful treatment if you suffer from cold, allergies, or sinus trouble.
45 minutes ~ $65
Loyal Guest Pamper Plan Perks
BOGO-buy one, get one of any $10 add-on!
OR 10% Off Add-Ons Listed Below: