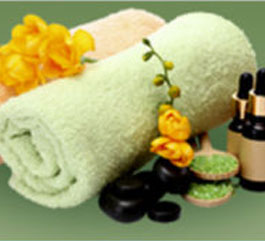 Fountain Spa combined its most popular spa treatments into Hilton Head spa packages to allow you to achieve supreme relaxation and rejuvenation.
Rehydrate & Rejuvenate
Experience a body butter wrap followed by a 50 minutes massage.
2 hours ~ $205
Ultimate Indulgence
Escape from reality for nearly three hours. Begin your day with pepper my feet, followed by a rehydrating body butter wrap and finished with a massage.
3 hours ~ $320
Blissful Day
Pamper yourself for 3 hours. Begin your day with a body butter wrap, followed by a 50 minute massage and finish with a 50 minute facial.
3 hours ~ $320
Paradise Glow
CBD Citrus Body Polish followed by
50 minute massage (80 minutes total) ~ $190
80 minute massage (105 minutes total)) ~ $225
Designed By You
Mix and match two or more 50-80 minute services and receive 10% off.
*20% gratuity will be added to all spa packages, timeshare coupons and
vouchers on the non-discounted price.
**Spa Packages already discounted 10%; no additional discounts.
Pick One of Our Spa Packages Today
All of our body wrap therapists are qualified to serve you with the very best therapeutic treatment to date at Hilton Head Island, South Carolina. We offer a wide range of massage and skin techniques to refine your signature appearance. We will match you with the best therapist for any specific requests.
Loyal Guest Pamper Plan Perks
BOGO-buy one, get one of any $10 add-on!
OR 10% Off Add-Ons Listed Below: